The Best Wine and Cheese Pairings
Cheese and wine. In the gourmet universe, both products share the altar of the most absolute and irrefutable excellence, with a richness provided by an almost unlimited variety of alternatives for pleasure, determined by each producer's place of origin, type, selection of raw materials, preservation methods, and peculiarities.
The association between these two noble and ancestral foods -which wine most certainly is- has been around for quite some time. Both after-dinner, as the French like to do, and in other everyday circumstances, wines and cheeses cross their flavors, textures, and aromas when we enjoy an aperitif, dessert, or tapas, and even in a long list of recipes, whether they are traditional or avant-garde. But the truth is that the long coexistence between cheese and wine does not exactly guarantee a happy harmony.
The combination of wine and cheese offers as many possibilities for enjoyment as it does for failure in the pairing.
Not every cheese goes with any wine
In Spain, we have an example of these forced pairings doomed to failure. Because in this country, there is a tendency to unceremoniously associate red wines with any type of cheese. Big mistake. As the French, who are experts in the matter, know full well, the generous acidity of almost all soft cheeses, which is even greater when made with goat's milk, is capable of completely disrupting the sapid quality of any red wine.
In Spain, there's an old saying that goes "que no te la den con queso" (don't accept it with cheese), born of this incompatibility between wines and some cheeses. It was coined as a response to an old trick used by wine merchants who'd give unsuspecting clients a piece of cheese with their wine to mislead them.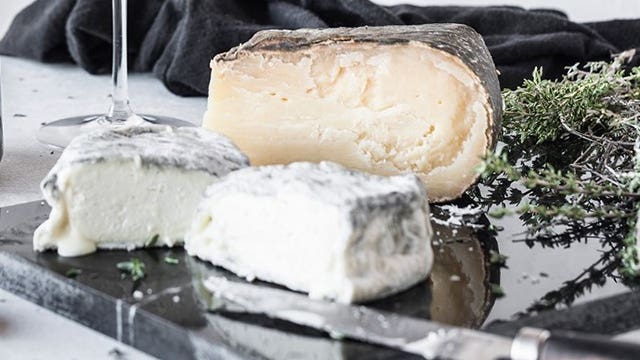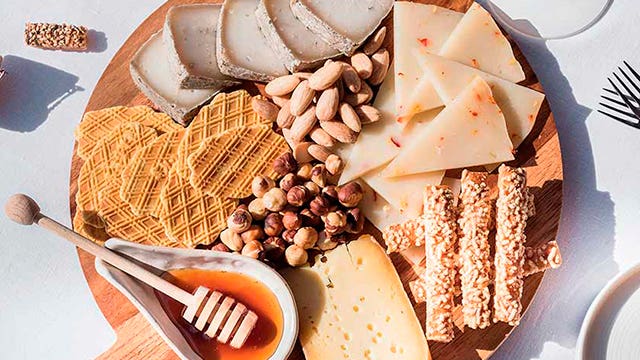 To facilitate a "good chemistry" between these two products, we present some cheese families with the most suitable wines for each group.
Cheeses and wines with good chemistry
To make the most of a wine's organoleptic properties, each wine, based on its origin, type, and method of production and aging, should preferably be associated with a cheese that does not contradict its aromatic and sapid structure, as well as its texture. For the pairing to work, there must be good chemistry, just like in well-matched couples.
Let's start by saying that there is no single wine that is suitable to accompany all cheeses. What we can do is group cheeses by families and choose the wines that are the best pairings for that group.
It's also useful to have some basic notions of cheese production to understand how cheeses are grouped by families and to get to know this product better, which will ultimately facilitate the choice of wine to accompany each variety.
Know your cheeses
In this regard, a fundamental step is to differentiate between raw and pasteurized milk cheeses.
Raw milk cheeses
These are usually artisanal cheeses produced in small quantities, which require a great effort to obtain a homogeneous product, because they depend on what the animal has eaten, the pastures, the weather, and many other factors.
Pasteurized milk cheeses
Milk pasteurization is a sterilization process used by the food industry to extend the shelf life of foods. Although this used to be a cause of discredit for gourmet food lovers, nowadays, the technique used with pasteurized cheeses has improved with independent ferments and some of them compete in flavor with raw milk cheeses.
On the other hand, cheeses can be fresh, mature, or solid, regardless of the milk from which they are made. With rare exceptions, this raw material is provided by cows, goats, sheep, and buffaloes (there are also mixed cheeses). The other three components in the production of this food are ferments, rennet, and salt.
Cheese and wine: pairing guide
Without going into the details of production, why one cheese is soft and another mature or blue, we offer here a practical guide to help simplify the choice of the most suitable wine for each cheese family (with direct links to the best pairings for each cheese in 15Bodegas!).
Blue cheese
—Sweet Port or semi-sweet reds of the Monastrell, Grenache, and Cabernet Sauvignon varieties, such as the Red Bach Viña Extrísima 2020.
—Sweet fortified wines (Pedro Ximénez, sweet Oloroso, Tokaj...), such as the Oremus Aszú 5PTT 2013 from Hungary.
—Whites and sparkling wines of aromatic varieties (Moscato, Pinot Gris), such as the Bach Frizzante Moscato 2019.
Soft cheese
—Fine and Manzanilla.
—Young whites, of the Sauvignon Blanc variety, such as the Austum Sauvignon Blanc 2019, or a Verdejo, such as the Legaris Verdejo 2020.
—Very old dry sherries (Oloroso, Amontillado, Palo Cortado).
Cured cow cheese
—Breeding and Reserve reds of the Tempranillo, Tinto Fino (Legaris Reserva 2016), Cariñena, and Graciano varieties.

Well, there you have it! All the info you need to guarantee the best pairing!