White wine for meat and red wine for fish: breaking traditional pairs
In our society, food is usually an important aspect of every celebration and gathering that brings the family, or groups of close friends, together.
The most special occasions take place around a table with a wide assortment of delicacies. The hosts and guests will attempt to share the most prized foods in the pantry: oysters, barnacles, clams, Iberian ham, turkey, poularde, capon, and lamb. They will also uncork the best wines they can get, including, of course, sparking wines for toasting the happy moment at these gatherings.
Celebrations around a meal are an opportunity for breaking with stale combinations and trying out new matches with wines and speciality foods.
Changing the pairing rules
Now, with the greatest of respect for Christmas and New Year's Eve celebrations, and without wanting to break with the traditional roll-out of banquets that takes place before, during and after these dates, in this article we do dare to suggest something about wine and food combinations for these banquets.
The opportunity to sample several delicacies and to combine them with high quality wines makes you want to break with all traditional pairs once and for all. Why not turn the rules upside down and try meats with white wines and fish with a red wine? If it's all about enjoying yourself, the sky is the limit and there's nothing like trying out new sensations to discover the excitement of the unexplored.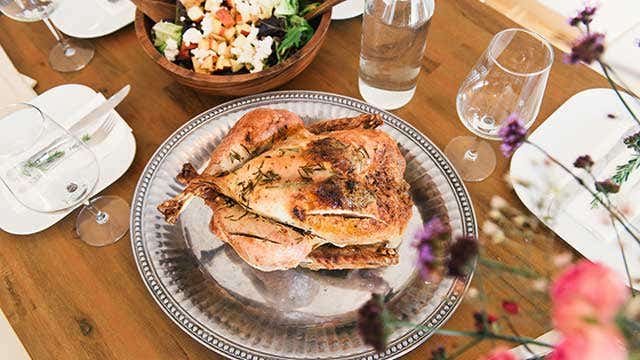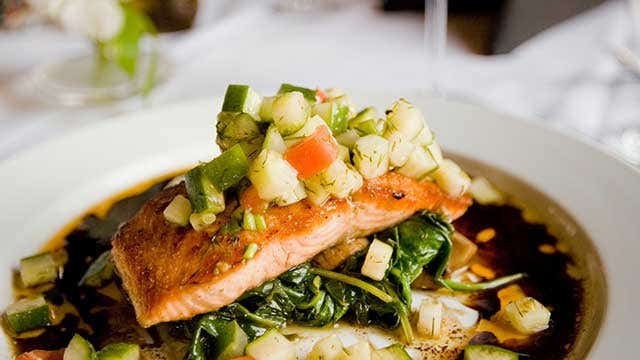 The wide range of type, origin and variety makes it possible to find white wines that pair beautifully with meat, and red wines that go well with fish.
White wines with meat: which are the best?
In order to get rid of any prejudice and approach less conventional matches, the first thing you need to do is to bear in mind that not all red wines are the same, and nor are all white wines the same. And, that there are also rose wines, sparkling wines, full-bodied wines and other types that widen the scope to enrich the combinations.
Perhaps, for white wines, an intensely flavoured beef casserole, like a rump steak, is not the best combination for a young, fragrant white wine from an aromatic variety. But a Chardonnay white vintage wine that has gone through fermentation, such as the 2019 Raimat Turons de la Pleta, would go perfectly with white meat dishes with sauces.
In their interesting collection of Unique Wines, Bodegas Bilbaínas also has white wines from varieties that are native to La Rioja that currently have only a small presence in the D.O.Ca vineyard, but which are gradually recovering because they show great potential for ageing and are of very high quality. Both the 2017 Viña Pomal Maturana Blanca and the 2019 Viña Pomal Garnacha Blanca, have a quality that makes them pair well with meat dishes.
If you are looking for white wines to go with recipes that involve poultry, such as turkey, poularde, capon, etc., the selection at 15 Bodegas also has some interesting alternatives which come from different origins. The complexity of poultry dishes that are prepared with strong flavours, some of which are stuffed with nuts and sun-dried fruits, demands wines with a rich, intense aroma, with a good structure and persistence, and which have been matured in a bottle. These are qualities that, without a doubt, the Hungarian 2018 Oremus Mandolás meets: a dry white wine from a region that is famous for its late harvest sweet wines (Tokaji). If you want to bring a bottle from an exotic origin (without running any risks on quality, since the Oremus winery belongs to the Spanish group Tempos Vega Sicilia), you can surprise the rest of your fellow diners with this one.
Another white wine of note which, because of its complexity, structure and volume, goes well with poultry dishes and white meat casseroles, is the 2017 White Abadia de Poblet. It combines the Macabeo and Parellada varieties, grown using ancient methods and non-interventionist techniques that try to recover the original essence of the wine-growing soil in Conca de Barberà.
If it's poultry dishes you are catering for, then don't forget the old white Garnacha wines from Mediterranean regions, such as the 2018 Santbru Blanc, from the Montsant D.O. It has the richness of vines planted more than 60 years ago in this area and has matured in 500 litre French oak barrels that accentuate its nobility and velvety texture, without losing the freshness of the fruit. It is the perfect white wine to contrast creamy sauces that often accompany poultry in many recipes.
Red wines with oily fish: best to be fresh and light
Just as there are white wines that pair perfectly with meat dishes, there are also red wines that are ideal for going with fish fishes. For seafood, it is best to look amongst wines that are fresher in terms of their year, character, origin or variety.
However, it's also true that not all fish are the same. Tuna and salmon go better with red tannins than sea bass or hake. As such, when we flick through the catalogue of wine varieties, we should also consider the species of fish when choosing which red wine to drink.
Leaving sauces to one side (which complicate this equation exceedingly), if it is oily fish that is on the plate (mackerel, tuna, or sardines), the best alternative is a wine that is preferably young, with a sharp, fruity flavour, good structure, good persistence and one where you can't taste (or just barely taste) any wood ageing. A Shiraz from the Antipodes, such as the 2020 Yellow Tail Shiraz, which is fragrant and full-bodied, is perfect for the occasion. It even has the perfect name! But you don't need to go to the other side of the world, because a sunny Garnacha from Montsant, from a recent year, such as the 2019 Vinos del Paseante - El Pispa, with its mineral notes and hints of mature fruit, can work very well. Or even a cheerful Tempranillo from La Rioja, such as the 2018 Viña Pomal Organic, which was designed to preserve the purity of the fruit.
The combination of different varieties in a young red wine can also be effective at getting a fragrant, structured wine that is perfect for pairing with oily fish. The 2019 Red Vol i Dol (D.O. Catalunya), for example, mixes Cabernet Sauvignon, Merlot and Tempranillo
Red wines with white fish: choosing the right combination
Going against the general idea that white fish can only be paired with white wines, in this post we also offer some alternatives to break this rigid rule by suggesting various options to enjoy different species and recipes with these fish, in the company of different types of red wines.
Beginning with those with a delicate flavour and a soft texture, such as hake, sea bass, or sea bream, which are traditionally prepared in the oven, salted, "a la bilbaina", these maintain a perfect degree of oil and moisture, which calls for the balance of a classic, aged red wine which has a good balance between fruitiness and spices from oak aging, such as the 2018 Viña Pomal Crianza. It is an icon in its category, characterised by aromatic notes of black fruit, blended with high roast accents.
Sea bream, a fish that is semi-oily and has a strong flavour, and which becomes higher in lipids in the winter, which makes some people consider it an oily fish, is traditionally eaten at Christmas in some parts of Spain. Because of its qualities, it pairs very well with red wines which have a good structure, are full-bodied and fruity, and have spent a short time in the barrel, such as the 2019 Legaris Roble. It has a clear taste of a fine red variety (Tempranillo) in exceptional vineyards looked after by the Legaris winery in the Ribera del Duero D.O.
Rock fish, such as red mullet, which are considered to be either white or oily depending on their fat concentration, are rich in iodized notes and have a fine texture, can go well with red wines. Mencía wines from the Bierzo region, such as the 2018 Vinos del Paseante - La Escucha, which combine the minerals from the slaty soils of this unique land with the freshness of the Atlantic influence in the region and the authenticity of the variety (lively notes of violets and red grapes), making it ideal for this wine matching challenge.
It is precisely because rock fish, and other fish, are used for seafood casseroles, that it demands some reflection in a chapter on pairing wines and foods. Without getting into the nuances that distinguish a Marmitako tuna stew from a Suquet fish stew, a beef Caldereta, a bouillabaisse and other specialities of this kind, there is a general rule that most of these go well with red wines. Especially if the cooking brings out a strong flavour, Mediterranean varieties can give an effective contrast. This is the role that the 2017 Santbru plays. It reveals the strength of old Carignan vines planted more than 70 years ago in the region of Montsant.
Finally, the wide range of traditional recipes for cod find more affinity with red wines than white wines, especially if they are hot recipes (a la Llauna, a la Vizcaína, a la Portuguesa, baked, etc.). With these recipes featuring salted fish, you have the opportunity to uncork red wines with large reserves, whose complexity does not contradict the complexity of the dish. So, there's no need for doubt when someone suggests a wine as serious as the 2015 La Vicalanda Gran Reserva, the utmost expression of terroir from Haro of La Rioja, when a delicious cod is brought to the table. It's time to break traditions in the world of wine! Cheers!