Cava: the most versatile alternative for food and wine pairing
Humans are so fond of pigeonholing things (the habit of categorizing everything around us) and repeating the patterns of our ancestors helps us to prevent chaos, that this behavior often restricts us from truly enjoying the best pleasures this long-suffering planet has to offer.
A prime example is the perception that many have of the Cava, which despite being considered one of the world's great sparkling wines, is under attack from a few stereotypes. One of these is that it is a celebratory beverage, only meant to be uncorked on festive occasions. But why not whenever we feel like it?
Another paradox regarding the Cava is the role it plays at the table, which has traditionally been restricted to appetizers and desserts, when one of its main virtues is, precisely, its versatility when it comes to facing most of the challenges posed by gastronomic harmonies.
To break with these stereotypes, there is no more appropriate weapon than experience itself: you have to bring the Cava to the table, try it, venture into the combinations that each one of you fancy and, above all, enjoy. Without forgetting that the Cava is a wine. And that, as such, it deserves the company of suitable food (and, if you ask me, a good conversation as well).
According to a study by François Chartier, a leading authority on molecular harmonies, the Cava is one of the wines with the greatest potential for pairing with cuisines from all over the world.
The Cava and the molecular harmonies of François Chartier
Although in this Blog, we support free-will in the matter of pairings, the best combination between wine and food is, ultimately, the one that each individual enjoys the most, it never hurts to listen to the experts' opinions. Those who know the most are the ones who can best guide the rest, even in a field where whims are as significant as the harmonies between solid and liquid pleasures.
The voice of the expert, in this case, is that of Canadian François Chartier, sommelier and restless researcher in the field of molecular harmonies, author of Taste Buds and Molecules (Planeta Gastro), a reference book for understanding the association between wines and food from a scientific perspective, and considered a leading authority on food and wine pairings. In September 2020, Chartier presented in Barcelona the results of a detailed study, conducted together with the Cava Regulatory Board, that scientifically demonstrates the enormous potential of Cava to develop harmonies with a wide range of foods.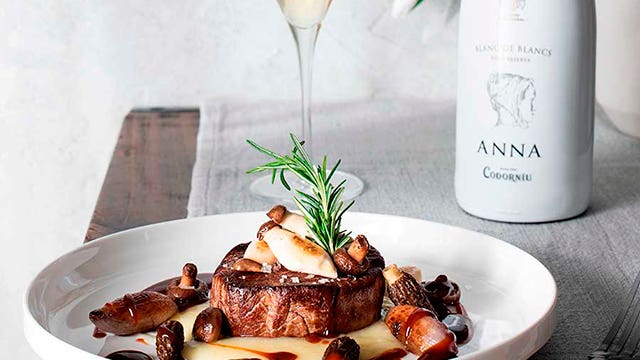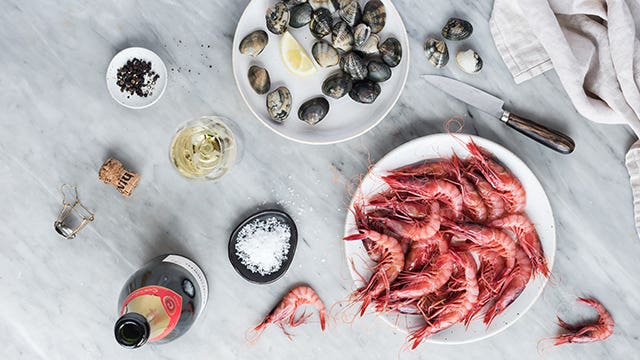 The map of complementary ingredients for each category of this sparkling wine offers alternatives to enjoy with Cavas of the "Guarda", "Reserva" and "Gran Reserva" categories, as well as the exclusive "Cavas de Paraje Calificado".
Pairings for each Cava category
To reach this conclusion, the créateur d'harmonies worked with his team for a year and a half, using gas chromatography and other laboratory techniques to establish the aromatic profile, based on the dominant molecules, of the main categories of Cava: Cava de Guarda (aged for at least 9 months), Reserva (over 15 months), Gran Reserva (over 30 months), and Qualified Single Vineyard Cava (over 36 months).
For each of these categories, Chartier identified foods in which the same molecules prevail, this way drawing up a map with ingredients and dishes that achieve a high aromatic synergy with the different types of Cava.
And so, according to this study, the aromatic profile for the Cava in the Guarda category, the youngest, is marked by "notes of aniseed (especially when there is a strong presence of the xarel·lo white grape variety), as well as white fruit (apple, pineapple, pear), white flowers (hawthorn, linden), without forgetting herbal and citrus notes". Although there are a multitude of nuances in each category, depending on the grape varieties, origin, etc., the study suggests, for these young and fragrant Cavas, the consumption of fruits like green apple, peach, banana, pear and orange, fresh herbs (cilantro, fennel, dill, mint, lavender, Shiso), and various ingredients like pork fat, French fries, olive oil, and shrimp. With this in mind, one might think that grilled prawns or a seafood ceviche, as well as sushi and guacamole, may the perfect with a Cava like the Parxet Brut or a best seller such as Anna de Codorníu Brut.
With more pronounced aging, the Reserva, category Cavas are distinguished by an aromatic profile dominated by notes of ripe white fruit (yellow apple, pear), yellow fruit (apricot, peach, pineapple) and dried fruit (almond), with some nuances of coffee, pastry and honey. From a molecular point of view, some of the complementary ingredients for this type of sparkling wine are very diverse: from honey, tomato, leeks, almonds, pistachios and cocoa to sausages (bull blanc, Catalonian sausage), dried figs, soy sauce, paprika, smoked fish, curry, soy sauce, scallops, and langoustines. In his search for global recipes that harmonize more precisely with Reserva Cava, Chartier has found a few classics: potato omelet, Mexican tacos filled with pork and vegetables, shrimp tempura and causa limeña de pollo (a Peruvian chicken dish) are some of the world's delicacies that can be enjoyed with a new concept Cava, such as Raimat Lo Fred de Ponent Xarel·lo, or a lifelong classic, like a Codorníu Non Plus Ultra Brut Reserva.
Aged for over 30 months, the Gran Reserva Cava is marked by the degradation of yeasts, which results in an aromatic profile richer in toasted, spicy, buttery and candied fruit nuances. Although notes of white fruit are also found, its molecular analysis abounds with the presence of toasted notes: coffee, chocolate, hazelnuts, bread... as a consequence of the transformation of the wine during the aging process. For this category, Chartier's study establishes as complementary ingredients corn, guava, chipotle, cooked apple, hazelnut and toasted almonds, coconut milk, aged Cheddar cheese, Iberian ham, veal, foie gras, coffee, red prawns and various types of bivalves, such as oysters, mussels and scallops. According to these relationships, paella, the traditional roast turkey (like the one eaten in the United States on Thanksgiving Day), Iberian ham, smoked eel and Mexican fajitas are dishes that harmonize perfectly with Cavas such as the excellent Ars Collecta Grand Rosé Reserve 2019 or the commemorative Parxet 1920 Gran Reserva 2013.
Finally, for the Qualified Single Vineyard Cava, the one with the longest aging according to the Control Board's regulations and therefore, with a more complex profile, rich in candied, spicy and toasted accents, François Chartier notes as complements truffles, coffee, mushrooms, gingerbread, smoked meat, dark chocolate, mature cheese, spices (cloves, vanilla, licorice, cinnamon), licorice, dates, soy sauce and Huitlacoche (a fungi grown on corn). A type of Cava marked by evolutionary notes may be the best choice to enjoy with black rice, mole poblano, (stuffed veal round and Peruvian anticuchos). We will have to taste these intensely flavored dishes with some of the best examples of this exclusive category, such as Ars Collecta Paraje Calificado La Fideuera 2011 and Ars Collecta Paraje Calificado La Pleta 2011, to find out if the Canadian expert is right.


Chartier himself warns that "The perception of wine is influenced by the glass, the serving temperature, the company, the experiences lived by each one of us, genetics, social traditions and also culture. This work is not intended to be anything other than a tool to help organize information and break down beliefs". If it helps, let's raise a toast, with a glass of Cava.