What is the serving temperature for each wine?
Although it is not always taken into account, the temperature of the wine is one of the most important factors when it comes to fully enjoying its flavor, as well as the rest of its qualities and properties. Not following the recommendations offered by the experts can tarnish an experience instead of being truly pleasant.
If you are in doubt when serving any bottle or think that there is a suitable temperature for all types, this post is for you. The time has come for you to clear your doubts. The next time you uncork a wine, you will do it at the correct temperature. You will not go wrong!
Choosing the temperature at which each wine should be served is not something random or the result of a whim.
The ideal wine temperature in each case
Choosing the temperature at which each wine should be served is not something random or the result of a whim. Nor does it depend on personal tastes or the heat or cold that can be registered in your city. Do not make the mistake of putting the bottle that you plan to open in the refrigerator the day before so that it is very cold because that not always works.
We reveal what is the ideal temperature depending on the wine you want to bring to your table and how to achieve it.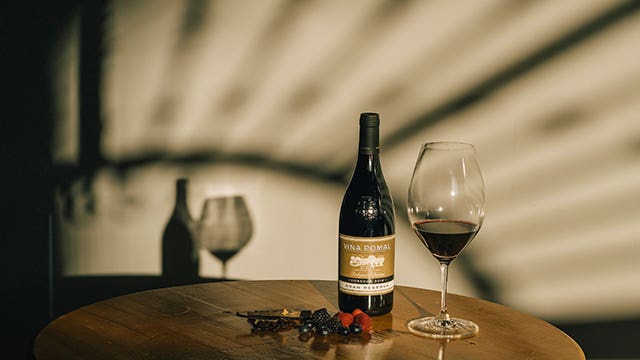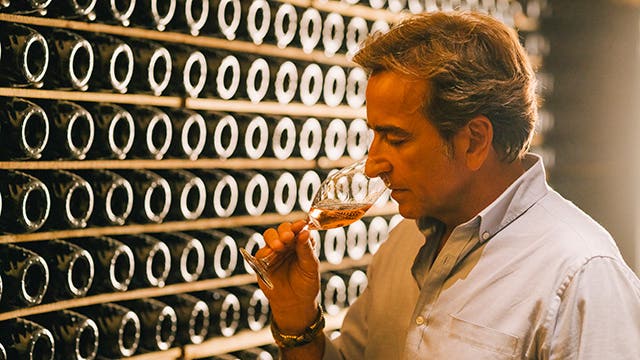 The temperature of the wine plays a key role for tasting in an optimal way.
Sparkling wine
If you opt for a sparkling wine, such as a cava, champagne, sparkling wine or another similar one, make sure that, when you serve, it has a temperature around 7 degrees Celsius. It will be the ideal way to celebrate your best toasts.


Sweet white wine
This wine, perfect to accompany desserts or to serve during an afternoon snack, requires a temperature of 8 to 11 degrees Celsius. Only when it is very fresh will its youth and fruity flavor that characterizes be best perceived; for example, Muscat, Pedro Ximénez or the white White Bach Extrísimo Demi-Sweet 2019, made from Xarel·lo and Macabeo. It will also increase the sensation of sweetness, while mitigating its characteristic acidity.
Sec young white wine
Choose to serve dry young whites, such as White Viña Pomal 2020, at a temperature that ranges between 7 and 10 degrees Celsius, maximum. Why cold? Because it is the way to enhance its fruity flavor and its most primary aromas, with refreshing notes, while avoiding an overpowering presence of alcohol.
Aged white wine
From 10 to 12 degrees Celsius. That is the stretch in which the temperature of any aged white wine, such as White Abadia de Poblet 2017, should be set at the time you are going to enjoy it. It will allow you to discover more easily those aromas linked to the lees and the aging that will seduce you.


Barrel-fermented white wine
12 degrees Celsius are recommended when serving barrel-fermented white wine, such as Santbru Blanc 2018, which is characterized by its unctuousness. You will enjoy that smell that will remind you of butter, the result of malolactic fermentation. Also of its structure.
Rosé wine
As in the previous case, rosés are best cold. Therefore, it is best to serve them between 6 and 10 degrees Celsius. You choose within that range, the temperature that seduces you. Wines such as Rosé Viña Pomal 2020 or Brunus Rosé 2019 will accompany perfectly fish, salads and pasta, among other dishes.
Young red wine
Cold is the best companion for youngest red wines, such as Red Vol d'Ànima de Raimat Organic 2019, since they contain less tannins and help reduce the alcoholic sensation that they may bring out. Its ideal temperature would be between 12 and 14 degrees Celsius and even slightly lower.
Crianza red wine
Unlike young reds, Crianza reds have a medium tannin load and a reduced acidity level. They do not require the cold to be enjoyed to the fullest. It will be enough to serve them at 15 degrees Celsius for you to be aware of the aromatic depth they enjoy and all their notes. This is the case of wines such as Viña Pomal Crianza 2017 or Legaris Roble 2019.
Reserva and Gran Reserva red wine
The recommended temperature increases with respect to the other reds and, in this case, reaches 17 degrees Celsius. It is ideal for reserve and grand reserve red wine, such as Scala Dei Prior 2017 or La Vicalanda Gran Reserva 2015. Remember that, as a general rule, the older a wine is, the higher the temperature it supports and vice versa.
Fortified wine
Fortified wine such as Jerez or Port, among others, require a temperature of 11 degrees Celsius to be enjoyed as they deserve. Within the Sherry wines, the Pale Cream can drop to 10 degrees Celsius. For its part, the Amontillado admits to go up to 14.
How to chill a wine?
Although you may be tempted to put it in the freezer for a few minutes to cool it quickly, we recommend that you don't. Sudden changes in temperature can damage the wine and you will no longer be able to enjoy it to its full potential.
So that this does not happen, you have the possibility of tempering it by introducing it in an ice bucket in which you have previously poured equal parts water and ice. It will cool down without being affected. You can use the various designs available at 15 Bodegas. This is the case of the Viña Pomal transparent bucket, which can hold up to 6 bottles, the Ars Collecta bucket, which has capacity for up to 4 bottles, or the Anna de Codorníu ice bucket. If you only have one bottle, you can opt for the Viñas de Anna bucket.
The length of time each type of wine must remain in it will vary. These are the wines and the minutes they require in an ice bucket:
—Sparkling wine: 15 minutes.
—Sweet white wine: 14 minutes.
—Sec young white wine: 12 minutes.
—Barrel-fermented white wine: 10 minutes.
—Aged white wine: 8 minutes.
—Rosé wine: 12 minutes.
—Young red wine: 13 minutes.
—Red wine aging: 8 minutes.
—Reserva and Gran Reserva red wine: 5 minutes.
—Fortified wine: 11 minutes.
As you have had the opportunity to know, the temperature of the wine plays a key role so that you can carry out your tasting in an optimal way. The next time you go to enjoy a wine, whatever the type, do not forget to take into account the knowledge that we have shared with you in this post. Do you have everything you need? Don't worry, in our online store you will find a wide variety of excellent wines and ice buckets to keep wines at their ideal temperature and enjoy them to the fullest. Enter and discover them!