What is the difference between a Brut cava and a Brut Nature?
If you want to enjoy a refreshing glass of Brut cava, you must first decide if you really want this type of cava or if at this moment a glass of Brut Nature would be better. Don´t know what the difference is between them? We will explain it to you in detail so that you are able to choose the one that best suits your taste.
When it comes to cava, the Protected Designation of Origin matters
To begin with, let's see what a cava really is, because it is a concept that is often not entirely clear.
We usually drink cava, the French, champagne, and the Italians, prosecco. Are they the same? Not quite. What they have in common is that they are all sparkling wines. The difference in name lies in the origin of the grape used to make the drink..
In the case of cava, the traditional champenoise method is used in its production, but if we do not call this drink champagne, it is because it is a sparkling wine that is made within the Cava Protected Designation of Origin.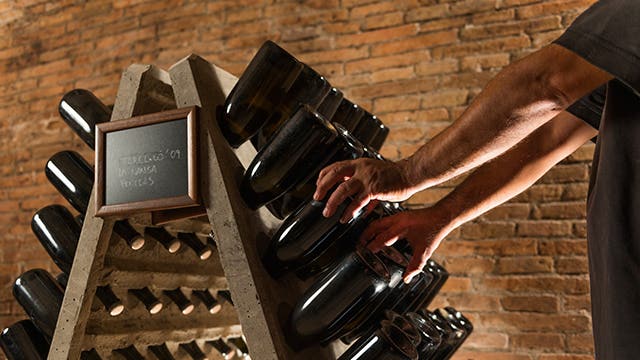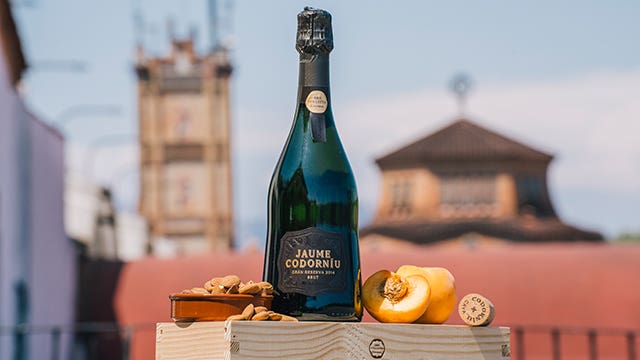 Cava, champagne, prosecco... The difference in name lies in the origin of the grape used to make the drink.
The same drink and different varieties
If you do not understand much about sparkling wines, it is possible that when you want to have a glass, you doubt about which variety to order, because there are quite a few: Brut, Brut Nature, Extra Brut, Extra Sec, Sec, Demi-Sec and Sweet.
The difference between varieties lies in the amount of sugar contained in the drink:
Between 0 and 3 grams of sugar per liter.
It has a maximum of 6 grams of sugar per liter.
It has up to 12 grams of sugar per liter.
Extra Sec
Between 12 and 17 grams of sugar per liter.
Between 17 and 32 grams of sugar per liter.
Semi Seco
It can contain between 32 and 50 grams of sugar per liter.
This variety contains more than 50 grams of sugar per liter.
The Brut Nature and Extra Brut varieties are considered the purest, since no sugar is added after disgorging. As it is a drink with less sweetness, the highest quality grapes are usually used for its production.
All cavas made in Spain are of the highest quality. The choice between one variety or another really depends on consumer tastes. If you are looking for a sweeter sparkling wine, you will surely like Brut cava more, such as Anna de Codorníu Blanc de Blancs Reserva, which has just the right amount of sweetness. On the contrary, if you want a drink a bit more bitter, but without exaggeration, you will love Extra Brut, like Mont-Ferrant Gran Cuvée. And if what you want is to fully enjoy the flavor of cava, then opt for a Brut Nature, such as Parxet Brut Nature cava.
The cava maturation process also influences its flavor
If you try two brands of cava of the same variety, you will notice that the taste is different. This is because taste not only depends on the type of grapes used and the added sugar, but it is also influenced by the maturation process of the sparkling wine.
Sparkling wine yeast
Bruts tend to be yeast wines that have undergone a long fermentation process, with at least a year of fermenting with yeasts.
In fact, within the Brut Nature, Extra Brut and Brut varieties you can find sparkling wines within the Gran Reserva category. They receive this name when their maturation process has exceeded 30 months.
In very exceptional cases there are sparkling wines that can be aged for several decades, up to 30 years, being these some of the most valued.
Fruity sparkling wines
The varieties of cava that carry more sugar have a much shorter aging process, of a few months. The result is a sparkling wine with a fruitier and sweeter flavor.
Brut Nature cava as a companion to meals
Brut Nature is the driest cava you can drink, with a sweet touch that is barely noticeable. This makes some people consider it a good option when having a glass of sparkling wine but not as an accompaniment to a meal.
However, this is not necessarily true. It is a drink with a high acidity and many bubbles, so it helps to clean the palate. Consequently, it can be a great accompaniment to very fatty or very oily dishes. For example, a roast.
What is the best pairing for Brut?
This drink is the perfect companion for all kinds of appetizers and entrees. As for the main dishes, it can be a great choice to accompany a meal based on rice, seafood, or fish.
If you have become fond of accompanying your meals with cava, you should know that this drink also goes very well with desserts. And in this case, if you enjoy sweets a lot, you can also choose sweeter varieties such as Demi Sec or Sweet.
Keys to enjoying cava even more
To enjoy a good glass of cava at home with the same quality as if you were doing it in a luxury restaurant or bar, make sure you are conserving it properly.
It should be served at a temperature between 5 ºC and 8 ºC. So, it will be enough if it is placed a couple of hours in the fridge or half an hour in the freezer. Before that, try to store the bottles at a temperature between 9 °C and 17 °C, horizontally or upside down. Always in a place protected from direct sunlight and with ventilation.
Now that you know the difference between a Brut and Brut Nature cava, you already know which variety is better to drink on which occasion. Remember that at 15Bodegas you will find a great selection cavas for all the tastes and, if you need help buying the best quality cava, you have us at your disposal. .
The Brut Nature and Extra Brut varieties are considered the purest.